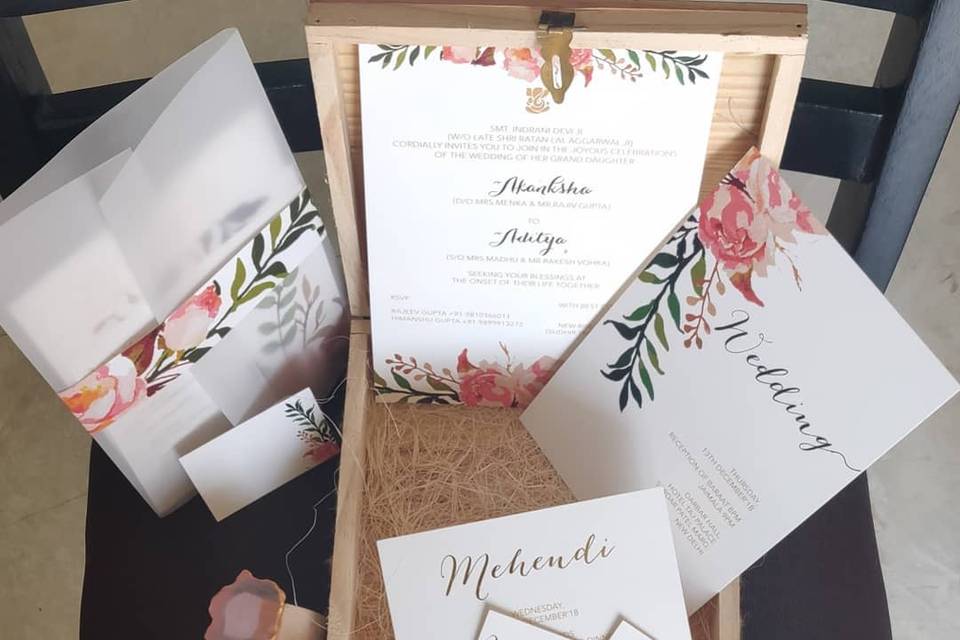 Digital  wedding invitation are quite trendy these days as they quickly connect your guest with various multimedia card options like image card & video invitation.  Now a days, WhatsApp wedding invitations have become rich in their popularity in pandemics and have increased multifold, thanks to their convenience and versatility. The way weddings were celebrated has been changed by covering and wedding invitations are no longer realized and are restricted to the invitations on paper and boxes. WhatsApp wedding invitations will help in planning and opting for an invitation that suits best for your occasion. Any invitation that can be sent online through mediums such as email, WhatsApp, Messenger, etc is termed as he invites or digital invitation generally but WhatsApp wedding invitation is a more generic term which is used for e-invite as they are shared popularly through WhatsApp among people. Digital invitations can be called by different names and functions the same but they do differ in terms of their format. One can choose the type of digital invitation based on their interest and budget.
To Create A Whatsapp Feeding Invitation A Few Things Must Be Taken Care Of Which Includes
There should be a clear idea or vision about the invitation of what you are looking for and what is essential as it will save time and cost too. The Internet has multiple samples and templates which could create unnecessary confusion. That is why you must have your Idea written in one place and see what is best for you.
Carry everything in place from venue to timings to content in advance to avoid unnecessary changes.
Go through the policies and procedures thoroughly before selecting any designs service
Book in advance the type of invitation you like and pay attention to the details as well.
The types of  WhatsApp wedding invitation includes image format, pdf invite, video-based invitations, GIF invitations, and wedding websites.
Image-based WhatsApp invitations are JPEG and PNG files or you can say picture-based invites which get creative as much as you like and you can bring your vision to reality by creating traditional Indian wedding invitations representing different cultures or how we met journeys to simple text-based invitations. These can be sent through WhatsApp and even shared on social media.
PDF invites are similar to image-based invitations and the difference is PDF invites consist of multiple pages with events around different pages and are best suited for invitations that contain a lot of information and have various events spread across different days. PDF scan includes clickable links which can include directions on the map to the venue and your link to live streaming on YouTube.
Video-based invitations are most popular and loved as they are interactive going to animations and music features that engage the guests and showcase the love stories through invitations which is the best by keeping the videos short and sweet and not clutter them with too much information.
GIF invitations are cute and merciless when it comes to chatting and they are a form of sharing our emotions in a unique and fun way as they are short in cute 10 to 15-second invitations. It contains information that is to the point and best suited for wedding announcements. They include animations and the information is not too much as the music isn't supported by GIF formats.
WhatsApp wedding invitations rarely use wedding invitation websites as they may not be as popular as video or image-based invitations which have a fair share of themselves when it comes to invitations. They are a kind of invitation that can include as much information as you want without looking into it for an overdose of information and they may sound complicated to complete but multiple websites prepare pre-designed wedding website templates in which you have to just add your information and your wedding invitation with the site will be ready in minutes without even leaving the comfort of your home. Include pictures and locations for sending out to your guest and all you have to do is to share your exclusive wedding website link.