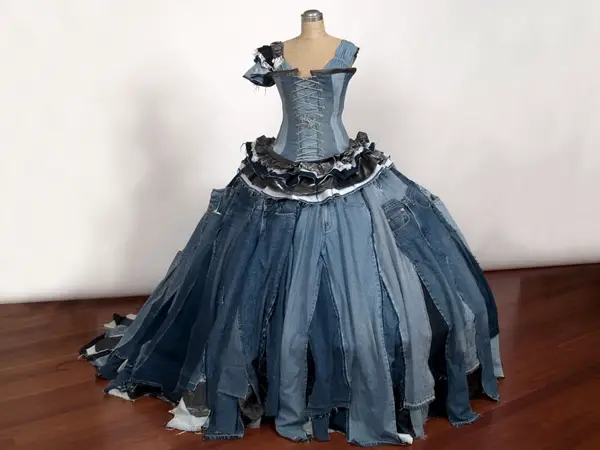 I most enjoy dancing the night away to a live brass band at a Victorian ball, out of all the Victorian era events I have attended! It's heaven to me to dance among elegant ladies' Victorian gowns and gentleman's tailcoats. It's how I became interested in historical costuming in the first place. After attending my first Victorian dance, I spent the next two months sewing a new Victorian gown to wear. After visiting the fabric store, I picked out a ball gown pattern, fabric, and trim, and dusted off my sewing machine. It turned out beautifully! What a great design! It was from the 18th century! As it turns out, I didn't know my history and chose a Marie Antoinette or Outlander era (18th century) pattern instead of an 1840s to 1901 Victorian ball gown. Big oops!
Fortunately, no one called me out on it at that dance, but I was encouraged to go back to the sewing table and make a Victorian ball gown. However, I prefer not to sew if I do not have to. Is it possible to make a Victorian, Southern Belle, or Civil War ball gown without sewing? Is it possible to alter a dress I bought at a thrift store into a fancy ball gown? Absolutely! Very easily, too.
How to Make a Victorian Ball Gown – The Dress
Choosing the appropriate thrift store dress as your base for a DIY costume is the key to success. In my DIY Victorian day dress guide, I suggest pairing a full skirt with a blouse for a no-sew costume. A mismatched top and bottom was uncommon with ball gowns, but you could do the same for an evening look. If you are looking for a Victorian formal gown, consider thrift store dresses in the following categories:
A strapless or off-the-shoulder dress. Short puff sleeves or long sleeves are also acceptable.
Fitted in the waist.
A full skirt (as large as possible to fit over a hoop or large petticoat).
Colors that are solid (jewel tones and pastels are best).
Laces, laces, and more laces. Old wedding gowns are beautiful. Taffeta, velvet, cotton, damask, silk, and satin are also good options. You should avoid tulle or net, and metals as well.
1980s prom dresses.
(Needs trim) A reproduction/inspired Victorian dress.
The Southern Belle Halloween costume can be used as-is or redecorated into something unique to you.
After a recent trip to the thrift store, I had few choices of dresses (it was Halloween, so all the good dresses were gone). Nevertheless, I was able to find a black velvet dress, a satin '90s prom dress, and a red peasant dress.
All of them were chosen for their full skirts and low or no straps. Another dress from the 1980s sat in my closet just waiting for this day. The only issue was that it had sleeves (most gowns don't) and it was too short (knee-length rather than floor-length). The dress was still useful despite these flaws.
I layered the 80s prom dress over a Victorian skirt I already had for the basic Victorian ball gown above. Whenever you find a full skirt at a thrift store, you can use it. Alternatively, you could find another ball gown or wedding dress with the wrong style top and just cut the skirt off. Alternatively, you could wear a white Victorian petticoat. Lastly, you could sew a skirt if all else fails. It doesn't matter what color it is. Victorian dresses have had some wild color combinations. Turquoise and blue? Orange and purple? What about red and yellow? You'd be surprised at the colors that work well together.